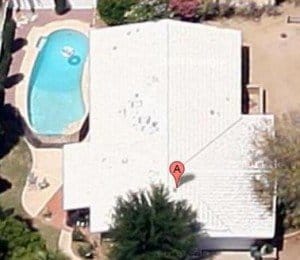 Since buying my Litchfield Park Home in 2007, I've been a swimming pool owner doing my pool maintenance…
My home was built in the 70's when huge pools were installed, so it has a 22,000-gallon in-ground pool, 9 feet on the deep end.
The beginning was terrible, and I felt like a total dummy trying to keep the pool water clean.
But it didn't take me long before I figured out how to test pH levels, add chlorine and shock, and perform necessary pool maintenance like a Pro.
Now unless something is broken or needs fixing, I just follow a routine of testing the pool water, adding water and chemicals as-required, and back-washing the filter.
Do It Yourself Swimming Pool Care
What's covered on my Pool Service Blog are the lessons I've learned as I've gone from a new pool owner dealing with pump problems, chemicals, and dead birds to an expert pool service technician who can maintain a swimming pool like the best pool service guy.
In about 10 years time, I've had broken popups, burned up pumps, broken sand filters, burned-out pool lights, shorted electrical systems, pool re-plastering, and many more pool problems.
And every pool season seems to bring about a new series of problems and experiences.
Probably the one pool problem that bothers me the most is when my neighbor waits too long to trim his palm trees and lets them bloom.
When this happens, my pool gets plugged up with palm seeds that clog the pump, filters, and this year almost drove me crazy when I couldn't get things cleaned out for weeks.
But there's plenty more excitement when the monsoons come around mid-July and make a huge mess. Dirt, leaves, tree branches, and dead animals end up in the pool.
And if you leave the debris alone it will just decompose, cause algae to grow, and make your job cleaning the pool harder to do.
Yup, it's an endless job trying to keep the water sparkling clean, the pool filtration system from getting plugged, and the pool chemistry balanced.
Listen: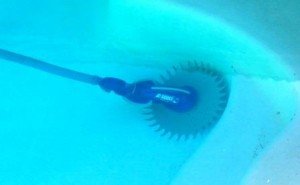 I've been working on Pool Service All blog since 2007, and it covers all the basics for new pool owners. Take your time and read through my posts and learn to do what you can, then pay for the big stuff…
As I start to wrap up, I want to leave you with my most crucial pool cleaning tip. Please read about the best automatic pool cleaner that saved my life.
The Kreepy Krauly has been the best investment I've made to help me keep my pool clean and serviced. I don't know what I would have done by now without this tool helping me. It's like having a full time pool guy!
Basic Pool Maintenance
What beginners will learn on Pool Service All guide is the basics on pool chemicals, tools, maintenance, tips, and lessons learned the hard way that will help you to avoid significant and costly pool problems.
You'll also learn how easy it is to buy pool supplies online and save time, money, and the hassles of waiting in line…
Now let me answer some common questions I get asked…
#1. Do you have any recommendations for Pool Cleaning Services?


Look at the image above. These are the search engine results for me searching for pool cleaners from my home in Litchfield Park.
I suggest reading my recommendation for the best swimming pool cleaning services near me.
#2. How many 3-inch chlorine tablets should I use?
I also struggled with this problem at first. But after a while, I learned to read the chemistry of my pool water pretty good. Now I add 2 – 4 chlorine tablets per week during the summer time when the pool is opened for swimming.
#3 How often should I shock my pool?
I shock my pool once a week, sometimes twice a week if it gets used or there are monsoon storms.
#4. How often should I clean my pool filter or backwash?
During the summer I will backwash my sand filter weekly to keep the filtration systems optimal for powering my Kreepy Krauly pool cleaner.
#5. Should I Install A Pool?
Pool Service All is also a good read for anyone thinking about having a new pool installed.
Before you sign a contract with a pool builder please read about my experiences because there's not a day that goes by that I don't wish I didn't have a pool. That said, I'm sure there are still guys that will go forward. I will see you on the other side…
If you don't find anything that helps, then you can always use the best pool service near me to help you.
Clean Pool. Happy Swimmers. Thanks!