The Perfect Pool Water Temperature for a Swim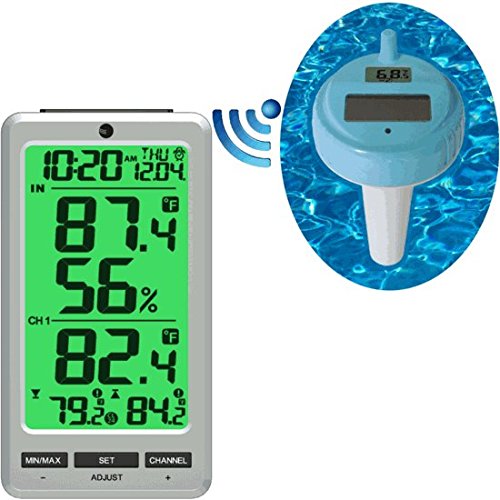 No More Dipping Your Toes in

COLD

Water
If you're looking for an easy way to find out what the pool temperature is without taking off your shoes to wet your feet, then this tip is for you.
Now there's a technology that can let you know when your pool water is perfect for a swim.
Below you'll find 3 of the best selling wireless remote pool thermometers that augment your smart home's tech.
Oh, the benefits of wireless technology…
Enjoy More Time in Your Swimming Pool – Get Alerted when the pool water is the perfect temperature.
Neighbors and Guests will Copy You – Keep the model of your remote thermometer available for when they ask.
Your Kids will Get More Exercise – They won't be able to say "the water's too cold" anymore.
Some digital pool thermometers are solar-powered, so you won't have to worry about changing batteries all the time.
Digital Swimming Pool Thermometer Investment
Having a digital swimming pool thermometer is a great addition to other home automation investments.
Now, not only monitor your home climate with a Nest Thermostat…
… but also monitor your pool water temperature with a wireless pool thermometer that's connected to the same wifi network.
The Best Wireless Pool Thermometer (3 Options)
Last updated on 2020-10-19.
How To Open The Ambient Floating Pool Thermometer
This is Ed from ambient weather, and today I'm going to show you how to open the lid and insert the batteries for the floating pool and spa thermometer the first thing you want to do is remove the locking key like. So you may want to grab a special cloth that makes it much easier to open the lid now you want to turn the lid counterclockwise much like you would open the lid of a jar do not turn clockwise you turn a clockwise or the wrong way it may get stuck and you may need a special tool to open it. So again it's just like opening the lid of a jar and inside you'll find a desiccant pack you'll want to leave that desiccant pack in there it helps with condensation here's the battery compartment I've already inserted the batteries here I prefer the energizer e to lithium batteries they last a lot longer than standard batteries. So you have to replace the batteries much less often. So go ahead and put that lid back on there and here you'll find the dip switches the dip switches there's four of them they allow you to adjust the channel numbers the manual talks about it, but you can adjust it from channel 1 through 8 and change the units of measure from degrees Fahrenheit to degrees Celsius. So when you're done inserting the batteries go ahead and just turn clockwise again like the lid of a jar until it lines up here the key and I'm going to put the locking key back in, and it's ready to go.
That was easy…
Before you go, check out a few more handy links for DIY pool care.
We'd Like To Know:
Please feel free to leave a comment below and share which was the best wireless pool thermometer you ended up buying. Thanks!