Easy Winter Pool Care…
It's been a long summer.
You had a lot of pool parties, barbeques, and get-togethers.
Best of all, plenty of fun in the swimming pool.
But now with winter coming, it's almost too bad that it's time to close the pool.
Maybe while the pool temperature isn't too cold for swimming, you can squeeze in a couple more parties before you cover it until spring.
I know the feeling…

About Pool Covers
One of the biggest problems many pool owners have each year when they roll out their winter pool cover is finding out that it's damaged.
They unwrap or un-roll it to find that it's covered with mildew or mold.
This happened because when you stored it away it wasn't cleaned well enough.
Or you didn't let it dry off before it was folded or rolled up and stored away.
So while it was baking in the shed or all summer, mold ruined it.
The same thing will happen with camping tents and tarps – you have to clean them and let them dry off before you store them.
This is a bigger problem if you live where it's really humid.
In Arizona, our problem is dry rot…

Heavy Duty & Sturdy Covers Work Best
It doesn't take long for vinyl or canvas to dry rot if it's left in the sun or a hot shed all summer.
That said, I guarantee you'll only get a couple of uses out of a cheap cover – especially if you don't take care of it.
My first few years with a pool sucked because I had no idea what to do during the winter time with my pool.
But worse is the fact my pool isn't square or rectangular shaped – it's shaped like a kidney bean.
So finding a way to cover it wasn't easy.
That's not a problem anymore because I figured it out.
Covers come in all sizes, shapes, and colors.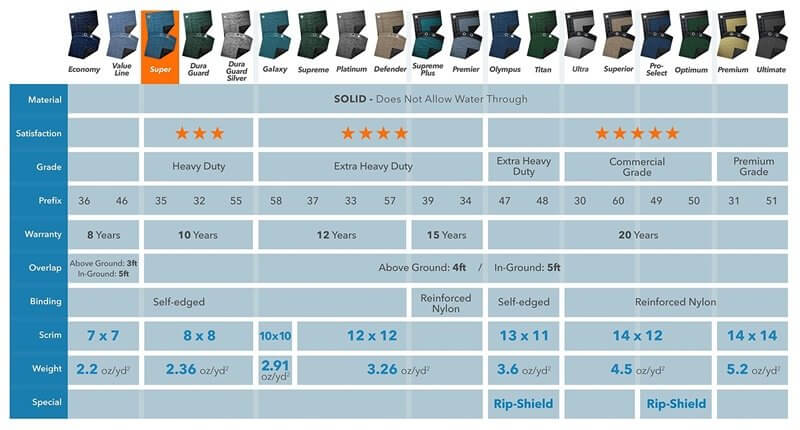 Seems the local pool shop doesn't carry covers in very many sizes or shapes.
So I was stuck trying to make a cover that's not long enough, or wide enough fit.
That's right. And you might have to buy more than 1 cover because they don't have the size you need.
Forget that hassle, I can help you find a cover that will fit your pool perfect and you'll probably save money, too.
Look, taking care of my own pool for more than 10 years has taught me a few things.
How to Save Time and Money – Don't buy costly supplies or waste time because you don't know any better than to shop at the big name pool supply store.
How NOT to Get Ripped Off – Avoid getting ripped off or paying too much for parts and repairs.
How to Do It Yourself – Doing your own pool care or at least knowing who to call when you need an expert.
If this sounds like something that interests you then that makes it worth all the time I spend working on this DIY pool care website.
Let's get to why you're reading this, you're looking for the best pool covers for winter and here they are.
Best Selling In-Ground Pool Covers
Here's a list of the 5 best winter covers for inground pools.
Last updated on 2020-10-19.
Best Selling Above Ground Pool Covers
And here's a list of the 5 best winter covers for above ground pool care.
Last updated on 2020-10-19.
Now for the plan.
First, you need to measure your pool so you don't buy the wrong cover and have to send it back.
Make sure you measure from the widest points from end to end, just in case your pool is like mine and its shaped like a kidney bean or has curves.
Next, depending on where you live, you might think about the material that you need.
If your pool gets covered with snow, you might want to read what verified customers have to say in their reviews. Which reminds me, take a few minutes to check out the reviews on serval covers before you buy one. Once again, it saves you from having to send it back.
And finally, when you've found the cover that works, order it so you have enough time in case you need to send it back because it's not the right item or you don't like it.
Give yourself at least 2 – 3 weeks of extra time before you need to use your cover.
That's a simple plan anyone can follow…
Oh, and if you need to buy any chemicals for treating the pool when you close it, then it's probably a good time to get them when you order your cover.
Make it happen.
Look, order your winter cover now – before you forget and end up stuck with all the other pool owners who waited until the last minute.
Picture yourself waiting in long lines,  picking through the leftovers at the pool store…because that's what will happen.
I've learned my lesson…
Believe me, you don't want to wait and pick a cover from the leftovers.
When you've dealt with as many winters as I have, you know it's better to get your pool supplies before the rush begins.
Better to be early instead of dealing with everyone stressing-out and standing in long lines.
Or – you guessed it – waiting for a replacement cover to arrive because you sent back the first cover because it was the wrong size.
Sorry if this sounds rash, I'm telling you like it is.
Now, follow this plan and you'll be watching football while your neighbors are still messing with their pool covers.
Wrap-up
As we come to the end of this guide, let's review what we've discussed.
You're here because you're looking for the best pool cover for winter to protect your pool when it's closed. 

✔

You're a new pool owner looking for advice on how to avoid wasting time and money when purchasing a pool cover. 

✔

And finally, you want help deciding which pool cover to buy that fits well and will last. 

✔
P.S.
If you found this guide about the best pool cover for winter care useful then here are a couple more guides for DIY pool care.