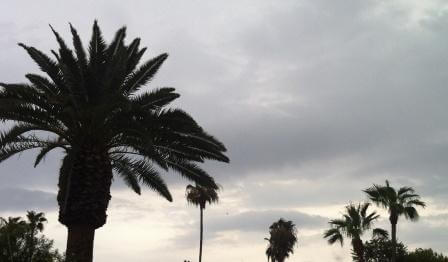 Monsoon weather happens in Arizona towards the middle of summer and generates a lot of dust and organic deposits in my swimming pool.
This weather pattern happens when the temperature rises and starts robbing everything of moisture which is then returned in thunder storms, humidity, and swimming pool frustration.
Read more about monsoon weather…
Monsoon Swimming Pool Problems
During this time of the year, I have to replenish gallons and gallons of water that have evaporated.
I also spend more time removing trash, leaves, and palm debris from the bottom of the pool…
…And to make it worst, there's always a layer of dirt waiting to be vacuumed daily.
Monsoon season causes filters to plug, drains to clog, and pumps to run dry when the pool water drops too low and air starts seeping into the system.
If I'm not vigilant with the pool water level, I am woken up by my pool pump hiccuping at 2 AM because the pool water was too low and the system is sucking air.
This problem is one of the flaws in older pools that don't have an automatic water leveling system, and it's also not good for the pump to run dry!
The Price of DIY Pool Service
As my own DIY pool service, monsoon season is the busiest and most challenging time of the year for me…
…And unless I am willing to pay for swimming pool service there's nothing for me to do except wait it out and keep servicing the swimming pool by:
removing the deb
ris
treating the chemicals
making sure the pool water level is good
back-washing the system
keeping the drains and filters cleans
 Conclusion:
Swimming pools are fun but they are a lot of work, especially during monsoon season!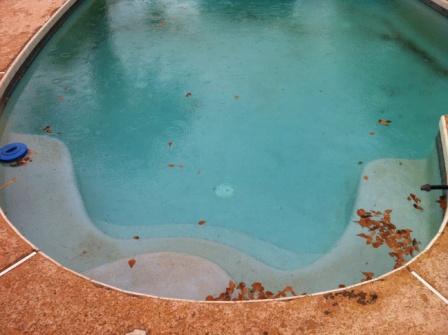 Do you still want a swimming pool?