Don't Let Low Pool Water Level Kill Your Pool Pump…
So you have a pool water level problem that's keeping you up at night and you're searching for the best automatic pool water leveler?
If that's the case then you've found help keeping your pool at the perfect water level.
Look, I can relate because my pool was installed in the 70s and doesn't have a built-in water leveler either, which over the years has been a major pain…
Imagine having an automatic pool filler that works at night while you sleep.
---

Installing a Swimming Pool Auto Fill System
Nowadays, new pools don't have this problem. But if you own a home that has an old swimming pool – unless you've already taken care of the problem – you're probably tired of getting up at night to put water in the pool.
There's nothing more irritating than waking up at 1 A.M. and hearing your pool pump sucking air because the water level is low.
I know the feeling all too well and I can still hear my pump gurgling (HMMM…Gurgle, Gurgle…).
But ignoring the noise doesn't fix the problem. So you put on your slippers and creep outside in the dark to put more water in the pool. Hopefully, your wife doesn't hear it or the kids don't wake up because they think there's a T-Rex in the backyard.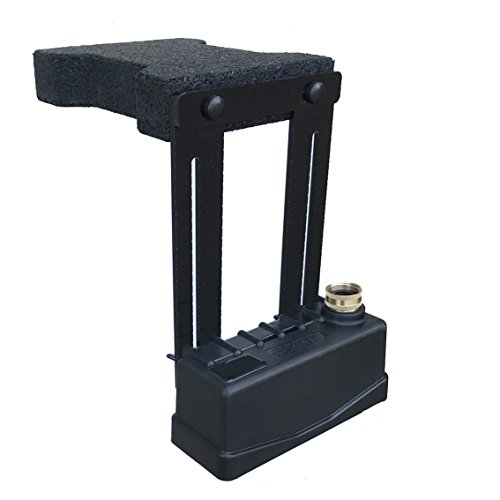 Admit it, deep down inside you hate having a swimming pool but unfortunately for now – all you can do is install an automatic pool water leveler and hope that solves the problem.
Low Pool Water Problems
Let's go over a few reasons why pool levels drop.
Here's my list and you can correct me if I'm wrong…
There's a leak which is a more serious problem you need to check for.
You're not adding enough water when you do your weekly backwash.
Pool water evaporates – here's a link to calculate evaporation rates.
All these problems have the same result and over a few days, or weeks, the water drops low enough that the pump starts sucking air through the skimmer.
But you probably already know that. And knowing what causes the problem doesn't make you feel any better especially if you've been woken up multiple times lately by HMMM…Gurgle, Gurgle…
You would think that whoever built your pool would have thought to build an automatic water leveling system into the pool when it was installed. Then again, maybe 10 – 30 years ago it was OK to be woken up at 1 A.M. to put water in a low pool.
Look, I can totally understand your frustration so let's focus on how to fix this instead of spending any more time dwelling on the problem.
Watch This Easy Fix
As demonstrated in the video, the good news is there's an easy fix for this problem that doesn't cost an arm and a leg. And the best automatic pool water leveler is cheap and with a basic toolkit, you can install it.
Here's a quick step by step guide for installing your pool water leveler.
First, you'll need to buy the leveler kit and a water hose that reaches from the water bib to the pool. (You may need to do a basic assembly.)
Then you attach the automatic pool water leveler to the hose and set the leveler up so the float can open the water valve. It works like the float that's in the toilet. (The float goes down, the valve opens. The float comes up, the valve closes.)
Turn on the water bib and let the water flow until the float rises and automatically closes the valve. (Adjust the level as needed.)
Now when the water evaporates, leaks out, or is drained during backwashing, the float will drop and the valve will open and add water until the level is back up to where you want it and then the valve closes again.
Once your leveler is adjusted properly, you won't need to worry about getting up at 1 A.M. anymore to add pool water.
Now Fix It…
If this sounds like what you've been looking for then you'll want act fast before the next time your pool needs water.
PRO Tip: As a safety precaution, you may also want to make sure your water bib has an anti-siphon valve so you're not sucking water from the hose up into your cold water pipes when your faucets or showers are running.
This is no big deal. It screws on the water bib between the hose and bib and you can purchase one when you purchase the leveler and hose.
No More Gurgling
When you're all done installing your pool water leveler you'll wonder what took you so long to fix this problem. And doing it yourself will also save you a few hundred dollars.
All in all, you'll be glad when it's done and you don't have to worry anymore about burning up your pool pump because the pool water level was low.
Best Selling Automatic Pool Water Levelers (3 Options)
#1 Best Seller
Fill-O-Matic Premium Automatic Pool Water Leveler
#1 Rated Automatic Pool Fill Valve in the WORLD! The PATENTED design can not be beat.
In ground or above ground, salt or fresh water, vinyl lined or concrete- the Fill-O-Matic is the best choice!
100% rubber base will not slip or slide like cheaper plastic models, preventing it from slipping into the pool
Brass hose connector, U.V. stabilized acrylic brackets and stainless steel hardware will provide years of service
Automatically keeps your swimming pool water at your determined height, adjustable from 2" to 9"- extension bracket available on Amazon.
#2 Best Seller
Rola-Chem Sentry Automatic Pool Water Leveler
Automatically Maintains Water Level So You Don'T Have To
Attaches To Standard Garden Hose
Automatically Shuts Off After Reaching Your Predetermined Water Level
Country Of Origin: China
#3 Best Seller
Airlie Pool Water Leveler, Automatically Adjusts Pool Water Level, Included Pressure Reducing Valve, User Friendly Design (Black)
PATENT PENDING LEVELER AUTOMATICALLY ADJUSTS POOL WATER LEVEL- Automatically keeps your pool water level at a stable level with a float valve that fills the pool when the water gets low. No more manually filling the pool water level back up with a hose every week. Simply connect your garden hose to the brass pressure reducing valve and set the float valve at your desired height.
BUILT-IN PRESSURE REDUCING VALVE- Unlike other pool levelers where you have to separately purchase an additional pressure reducing valve for your hose, each Airlie pool water leveler features a built in brass pressure reducing valve
COMES WITH ADJUSTABLE FEET ON THE BASE FOR SLOPED POOL EDGES- The Airlie Pool Leveler features a set of adjustable legs that are easy to raise and lower to accommodate sloped pool edges
USER FRIENDLY, FILLABLE BASE INCREASES STABILITY- The base of the leveler can be filled with water or sand adding stabiity and keeping it balanced while in use
AIRLIE LIFETIME WARRANTY- Each leveler comes with a 100% guaranteed lifetime warranty.
Last updated on 2020-10-19.
Wasn't That Easy?
As you can see, troubleshooting pool problems and fixing a low water issue due to evaporation is an easy fix for any DIY pool owner.
Now, on the other hand, if you decide to wait then you risk burning up your pump and that will cost you at least $700 dollars to repair – all because you let the pump suck air while you were sleeping…
It's just not worth waiting anymore to fix and now you have a repair plan…
So let's recap…
We've looked at how to install an automatic pool water leveler. Then we briefly discussed why you shouldn't let your pump suck air anymore. And finally, we checked out options on the best automatic pool water leveler that you can buy.
Once your plan is done your pool pump will be happy and you'll sleep better…
While you're installing a water leveler here are a couple more improvements you might want to consider:
Thanks for reading and please feel free to share on social media and leave your comments and feedback below.