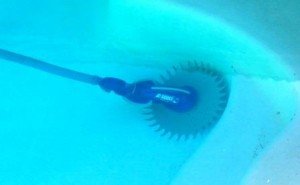 This Review Comes Straight From The Heart…
I've been messing around with pool tools for 7 years.
In fact, I've tried so many different tools that I could open a pool supply store and sell vacuum attachments, brushes, and skimmer I've bought on Amazon.
So this year, after about 3 weeks of brushing, skimming, and vacuuming, I gave up in defeat because I just couldn't keep the bottom of my pool clean no matter what I did.
It was starting to look like another long summer of frustration…
Here's the most painful part to explain.
My wife was nagging the heck out of me to clean the pool so my daughter could have her friends over to swim.
Is the pool clean so Vanessa can have her friends over to swim? Ugh!
I'm sure this happens everywhere, but in Arizona, it's tough to keep this thin film of dirt off the bottom of the pool.
And the algae seems to take over from one day to the next.
So during my annual visit to Leslie's Pool Supply, I spoke to the guy at the counter and he said the dust and algae won't hurt anything. Then he talked about what goes on in lakes.
When I told my wife what he said, she told me…
My pool is not a lake!
Watch how a Kreepy Krauly works.
Kreepy Krauly Kruiser to the rescue…
After checking prices and watching videos, I broke down and bought one.
I put the Kreepy Krauly Kruiser in my pool 2 weeks ago, and I haven't had to brush or vacuum it once since.
Get this.
Last week my wife even got into the pool which she hasn't done in 5 years.
Why didn't I invest in one sooner and spare myself the pain and frustration? Live and learn!
Here's a picture of my box.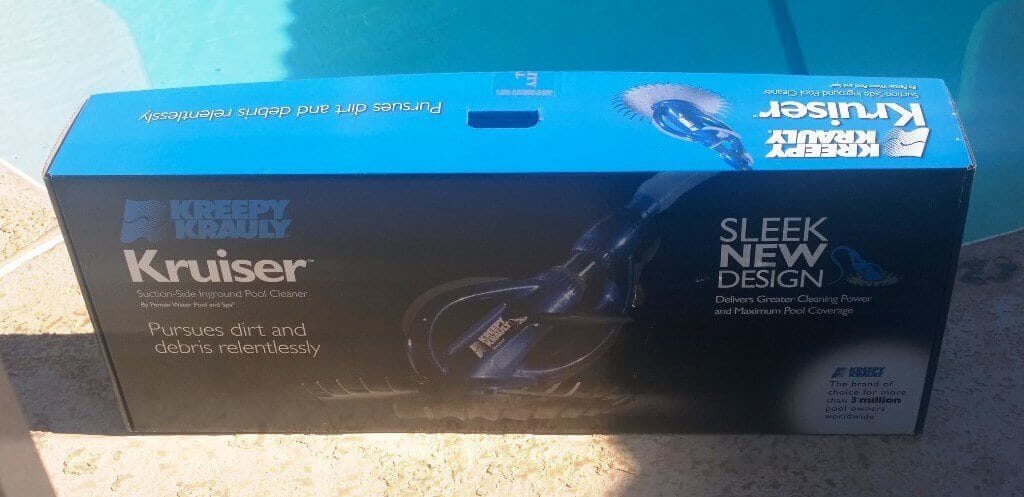 For this review, I have to be honest.
It was tough paying $300 for the thing.
But after I see what it does, $300 is nothing for the peace of mind and time I get back.
The only problem I had was needing to get some repairs done that I wrote about in the "Why I hate my pool" post which by the way gets a lot of reads.
Anyways, to fix a pump and valve leak, and to buy the Kruiser, altogether cost me $600 for everything.
And the best thing I can say about the deal is no more dealing with broken pop-ups because the Kreepy Krauly Kruiser does a better job keeping my pool clean.
I'm thrilled with my investment! Five stars!
Below is a Review Update (1 year later)
---
Best Automatic Pool Cleaner That Really Works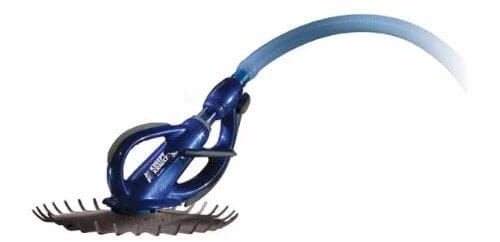 Work Smarter, Not Harder!
Last year was really big for me…
After years of painful pool cleaning using brushes and vacuums, I finally figured it out.
What changed you might ask?
I realized I was working harder not smarter, which is why I switched to the best automatic pool cleaner in my price range.
Let me explain…
The Easy Way to Clean a Big Swimming Pool
Since 2007 when I bought my current home with a huge 22,000-gallon pool, I have been struggling to keep my pool clean.
I tried every attachment sold on Amazon and at the pool store. I even hired a pool guy for $85 a month which was a joke!
Then last year I finally cracked and wrote about hating my pool.
A few months later I invested in a bunch of pump and filter repairs, and also in a Kreepy Krauly Kruiser from Pentair.
Best Automatic Pool Cleaner
I can now honestly report that buying the Kruiser has made all the difference in the world for my swimming pool.
Look, I admit every now and then it gets plugged with something it sucks up, and even wakes me up with the thumping sound it makes or when it tries to crawl out of the pool and sucks in air. But that's far less painful than spending hours pushing a broom in 9 feet deep water.
Now I let the pump do all the hard work.
Here's all you have to do after you buy your Kruiser:
Assemble the Kreepy Krauly with enough hose to reach the full length of your pool.
Attach the fitting to the suction port in the skimmer. (Careful not to have the pump running)
Then connect the hose to the fitting through the front skimmer flap.
You may have to adjust the hose length or add weights but that's no big deal.
Turn on the pump and watch the Kreepy Krauly Kruiser go!
Just let it run during your normal pump cycle.
This is how pool cleaning should be.
I still have to watch the pool chemicals and sweep the steps but this is the best way to keep a pool clean. No need to pay a pool man $85 – $100 per month for 10 minutes of work per week.
Where can you get a Krauly?
You can get a Kreepy Krauly on Amazon for about $200 or at your local pool supply store.
Although, I'm sure there are other types of crawlers that do the same thing. But I'm happy with my Kruiser.
For more details go to Amazon and read other customer reviews or read my next update Best Automatic Pool Cleaner (Kruiser Vs Goplus)…