Lawn Care by the Pool is Risky Business!
If you're like me, you have a bunch of old yard work tools around that have been working fine for years.
That was until I found myself running a long extension cords near the swimming pool and realized how dangerous this is…
But this problem gave me the perfect excuse to upgrade my yard tools so a while back I invested in the Black and Decker Cordless Electric Lawncenter and I haven't looked back.
These are the best cordless lawn care tools (trimmer, blowers and hedger) and I love them…
Awesome for a DIY like myself who doesn't need big powerful gas or 120V tools.
I have a small yard that doesn't need much except keeping the grass and hedges trimmed from around my pool deck.
My old weed eater was too powerful and would spray grass shaving into my pool…
But my new Black and Decker 20v cordless is powerful enough and best of all, I can work around the edges with more precision and not worry about extension cords falling in the pool water and zapping me.
Black & Decker LC3K220 20-Volt Corrdless Electric Lawn Care Center
You get everything you need to maintain your lawn by the pool right out of the box with the Black & Decker LC3K220 Cordless Electric Lawncare Center. It includes a LST220 trimmer and edger, LHT2220 hedge trimmer, LSW20 sweeper, and two 20-volt MAX lithium-ion batteries.
All the power you need with Black & Decker's 20-volt lithium system without the risk of extension cords.
With the LST220, you never have to bump to release the string or waste time continually adjusting the string spool. The Black & Decker Automatic Feed Spool keeps the string at the optimal length automatically and continuously…
…And when you want to shift from edging to trimming and back again, a quick turn of the shaft is all it takes.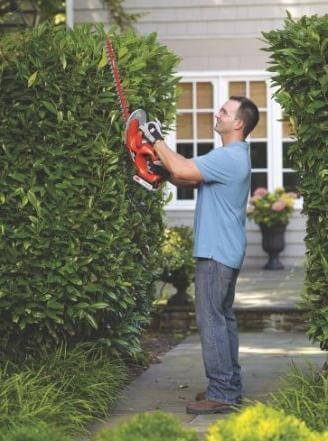 Lightweight, compact, and easy to use, the LHT2220 22-inch electric hedge trimmer is ideal for trimming hedges plus small shrubs and bushes by the pool.
It features a full wraparound front handle that gives you a cushioned gripping area in all cutting orientations. You'll be able to carve precise edges high or low, remove deep growth, and precisely shape hedges and brush with ease. It cuts branches up to 3/4-inch in diameter, so even large shrubbery and overgrown landscapes are no problem.
The powerful but quiet LSW20 hard-surface cordless sweeper lets you effortlessly remove debris from all around your pool deck and walkways. A built-in scraper lifts and loosens wet leaves and stubborn debris, and its powerful airflow does the rest.
Easy and comfortable to use, it weighs just 3.7 pounds, yet it delivers great sweeping power year after year thanks to its 20-volt MAX Lithium Ion battery. Fume- and mess-free, the LSW20's battery power keeps things quiet, too.
So even if you're up early like me, the neighbors don't have to be.
Specifications:
20-volt MAX lithium-ion battery system provides longer battery, life year after year; includes two batteries

Trimmer easily converts from trimmer to edger with a quick turn of the shaft

Automatic Feed Spool ensures continuous work without bumping

Hedge trimmer features 22-inch dual-action blade for extended reach

Sweeper easily clears debris from hard surfaces like patios, decks, walks, drives, and garages

Built-in scraper helps loosen wet leaves from surface

Backed by a 2-year limited warranty
Conclusion:
Don't take my word for it drop by Lowe's or a Home Depot and check the best cordless lawn care tools for yourself. Light, powerful, and quiet – perfect for lawn care around the swimming pool that keep the ducks away.