Schedule Help Now for Your Dirty Pool…
For years I've been doing my own pool cleaning…
Wanna know why?
Because when I've hired a pool guy to do the work, I always end up handling the finer details myself.
Here's the problem, most pool cleaners are good at first but then as time goes on you end up with the helper who is not the same guy you started with.
Who are you? I'm the new helper. Where's Joe? He's busy so I came. Ugh…
The same thing happens with lawn care or auto care, right?
But we're paying for the owner to clean our dirty swimming pool because we want consistency, not the helper. I've found the fix for that problem…
*Read the reviews about these pool cleaners
---
Local Pool Cleaning Services Near You
So here's what I did…
I spent the weekend trying to find the best way to help guests who come to Pool Service All looking for pool cleaning help and I think I found them…
Hopefully, by now you trust me because you know I'll give my honest tips, opinions, and recommendations that are based on my real experiences.
But up until now, I haven't given recommendations for swimming pool cleaners because honestly, I've not had very good luck finding one.
Listen: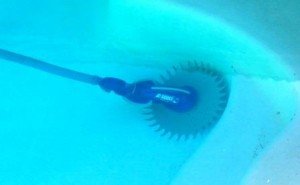 I know every situation is different, and depending on where you live and the climate, you can have a very different need than what I need in Arizona.
My pool cleaning need comes down to keeping a thin layer of dirt from building up on the bottom of my pool and algae from growing on the sides.
Honestly, what I've discovered is the best pool cleaner for me is having a Kreepy Krauly running at night and sometimes on Sunday. This pool gadget deals with dust and algae at the same time!
But that's my particular pool need…
Your pool cleaning needs may be very different.
For example:
Do you have kids that spend every weekend playing in the pool water? There's definitely pee in your pool!
Do you have pool parties with college students drinking and doing other things college kids do? There's definable beer, food, and possibly semen in your pool!
Do you have animals sharing the swimming pool with people? You guessed it, dog poop and other animal bacteria are in your pool!
Or lots of brush and trees near the pool that drop debris? Probably dead bugs and birds end up floating in your pool, right?
Just add chemicals and maintain the water chemistry or also do maintenance and repairs?
Do you want a one-time cleaning or ongoing service? Or come monthly, weekly, or daily?
You see, I get it, and you want a pool cleaner that knows how to deal with your unique need. Not the helper!
So when I Google "Best Swimming Pool Cleaning Services Near Me" and get a list of businesses with stars next to them but still feel not sure which one to call, my thoughts are with you.
The example below is from my home in Litchfield Park, my search shows 2,270,000 results…

Sure you can check Craig's List, Angie's List or Yelp, but you're still gambling and feeling unsure about who's coming to your home.
Who's Going To Clean Your Dirty Pool?
I have to admit, this really bothers me which is why I'm finally going to break down and make a recommendation for who I think is the best swimming pool cleaner near you…
My recommendation is Amazon!
Hold on, let me explain why.
I love and trust Amazon, don't you?
Did you know Amazon has started a new service called Amazon Home Services (AHS).
You can get any type of home service you need.
Lawn Care
Auto Care
House Cleaning
And yes, Pool Cleaning.
But here's the best part about using AHS.
Amazon's review process is the best.
Nothing against them but I think Amazon reviews are better than Yelp's and Angie's List reviews.
Look:
To get a business listed on Amazon you need to live up to Amazon's higher level of customer satisfaction and not just pay to be listed.
There's no gaming Amazon's review process, you can read verified customer reviews for any home service before ordering.
That's not all, another great feature of AHS is you see the price up front.
See the example I shared?
Pool cleaning services prices.
I know it will cost about $65 if I order this pool cleaner from Amazon. That's better than, we can't say until we see the pool…
And finally, if anything goes sideways and you're not happy, report it to Amazon and they handle the refund.
You're dealing with Amazon, not Joe's Pool Service (BTW, I'm Joe)!
That's a great value don't you think?
Here's my Amazon link for you to check out Pool Cleaners on Amazon Home Services.
You'll end up on my Litchfield Park page but just change the zip code to yours and click the update button for pool cleaner services near you.
Wrap up
As we wrap up this tip I want to reiterate my reluctance to make any particular pool cleaner recommendation.
Even with AHS, read the reviews carefully before ordering and if you have problems with the service you get, write an honest review so other pool owners don't hire them. Or if you want to try and do pool maintenance yourself I recommend you read my pool maintenance for dummies post to get you started.
Please come back and let us know how it goes? Thanks for reading!