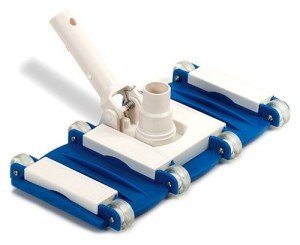 The Best Pool Tools for DIY…
Today you're going to learn about swimming pool tools.
In Arizona, another HOT summer has started and it's time to replace worn and broken swimming pool tools.
Yup:
Brushes, skimmers, and vacuum attachments don't last, especially in the 120-degree heat with penetrating UV rays beating down on them.
Tools can dry-rot, wear-out and crack, leaving your pool unprotected because you're unable to take care of regular maintenance.
Pool Supplies & Maintenance Tools Advice
Pool Supplies: Maintenance Tools - Video Transcript
Now the main the most important thing that you have to do to your pool is giving yourself an amount of time. Every week allow yourself forty-five minutes to an hour to keep yourself updated on whats going on. Cleaning out those baskets that are going cause you a big problem. Testing the water every week and using the essentials behind me to keep the pool up as well. Whether it be a surface skimmer a leaf rake anything that you can exit the leafs out. Get it out a quick as you possibly can. Brushing, brushing the steps off. Eliminating any debris from the wall the steps that can contaminate and cause a stain and your going to do all of that by using a telescopic pole. The all the pool poles are going to going from eight to fifteen feet fifteen and a half feet. So you can down all the way to the deep end get the all the debris out.
If you have the small dirt small particles you're going to be using a vacuum. This all also attaches onto the pole and you can, and you can hook this up to a vacuum hose that you can either use your if you have an automatic you can use that hose and everything will go into your equipment.
Look:
Pool tools generally will last me 2 years if I'm lucky, or one year if I throw it on the ground because the plastic clip breaks that hold it in places…ugh!
As a DIY pool owner, I don't invest in the high-quality expensive tools that cost $100s anymore as they wear-out and break too.
I also buy swimming tools online because it saves time and money…
…but it's really up to you if you want to be standing in line waiting – I don't!
Replacing Pool Cleaning Equipment
Let's start by talking about my new pool rake (leaf skimmer).
I purchased the Swimline 8040 Professional Heavy Duty Deep-Bag Pool Rake (Amazon Best Seller), because I'm surrounded on all sides by neighbors with palms and date trees.
As well as my own hedges and citrus trees. Or for smaller jobs, I recommend the best leaf skimmer by Swimline.
The last pool rake I broke when I was chasing ducks out of my pool with it.
Anyways, it was time for a new one so I bought the Swimline 8040 Rake on Amazon because it has a large leaf bag and a wide face that is perfect for catching a lot with less work.
Next on the list is the Poolmaster 20172 Premier 18-Inch Nylon Aluminum Back Pool Brush.
My last brush is almost completely worn out from brushing the pool sides.
I've also found the sun dries the nylon bristles and they break off in the pool.
The Poolmaster 20172 brush seems kind of soft and I'll have to see how it does as the summer heat wears on it.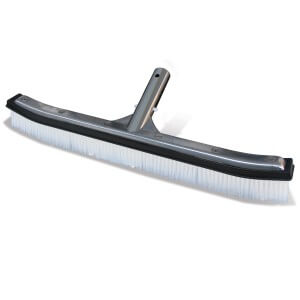 And finally, I purchased the Swimline 8150 Weighted Flex Vacuum Head (Another Amazon Best Seller).
Now:
I've had two other types of vacuums that weren't very good.
One was a brush with a hose fitting and the other was a plastic cone-shaped attachment with bristles on the sides.
The cone vacuum attachment cracked and left sharp pieces of plastic on the pool bottom and the brush wore out.
We'll see how the Swimline 8150 Vacuum Head does.
Tips for Caring for Pool Tools
Let me conclude this post by saying to beginners and DIY pool owners that swimming pool maintenance can become time-consuming and costly.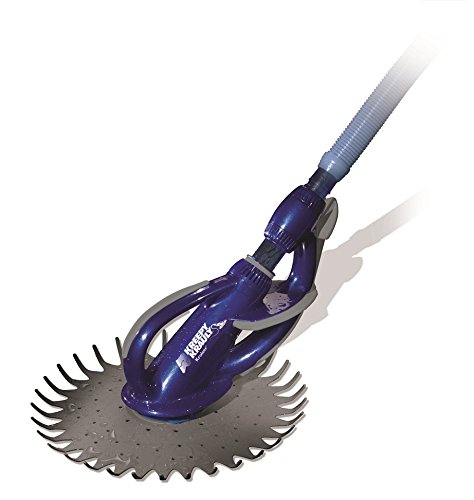 My first tip for you is to keep your tools clean and out of direct sunlight or they will become damaged and break.
And my second tip is to buy the cheapest tool that will do the job.
Here's what I do.
I read the reviews and consider what verified buyers are saying.
If they're saying the tool is junk, I don't buy it!
But if there are a lot of customers giving the tool 4 and 5 star reviews and saying how good it works then I think it's worth buying and testing the pool tool for myself…
The tools listed above are not the best but I can honestly say they do the job…
…and they're good enough to last 2 years.
Or if you want to skip all the back-breaking work, then I recommend reading my Kreepy Krauly review because I've found an easier way to keep my pool clean automatically.